Food
A list with pictures of some of the food we eat on our travels.

Mango and coconut sticky rice: We also made this delicious dessert during the cooking course. Squares of sticky rice are covered in grated fresh coconut, a slice of ripe mango and a sprinkle of sesame seeds. A delicious caramel-like sauce is then poured over the top. The sauce is made with palm sugar, coconut milk and lime juice, and was the best part of the dish. It would also have been very nice poured over vanilla ice-cream.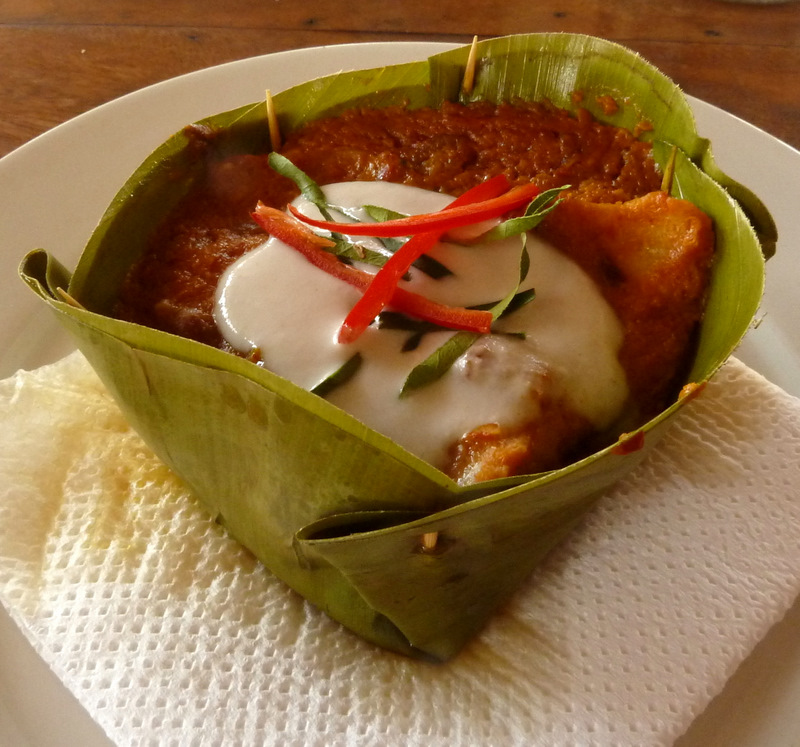 Fish Amok: A little different to the Chicken Amok we made in Kampot, and more traditional, this curried fish dish is steamed in a cup made of banana leaves. This was the third dish we made in the cooking course. It was good, but the flavours were very intense. I think I prefer the Amok made with more coconut milk, and less chili. The curry paste is again based on lemongrass, turmeric, kaffir lime, galangal, garlic, shallots, shrimp paste and chili. The addition of half an egg before steaming makes for quite a solid curry sauce. There is extra coconut milk, kaffir lime leaves and red peppers on top to garnish.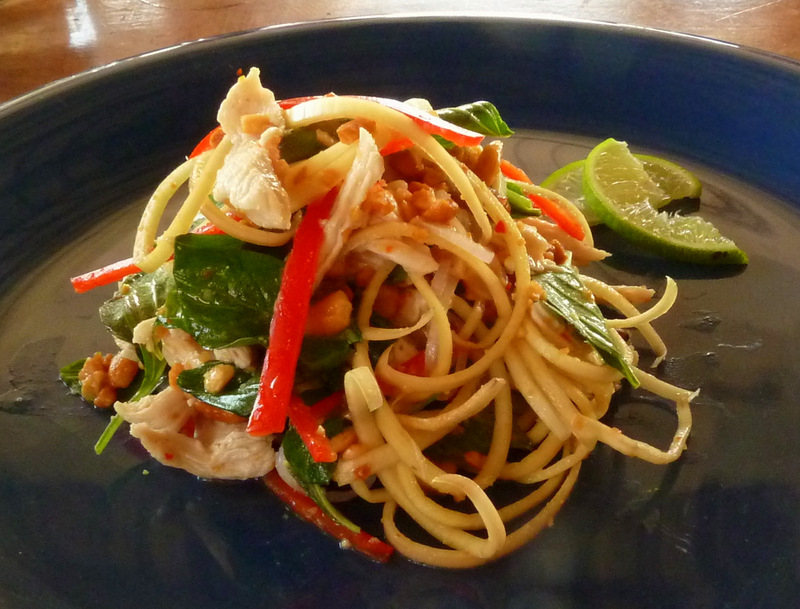 Banana Flower Salad: This was one of the dishes we made on our cooking course in Phnom Penh. It was pretty good, and the banana flower especially had a very delicate flavour. The banana flower was sliced into the white strips which look like noodles, but are not. The salad also contained poached chicken breast and various herbs. The sweet and sour fish sauce based dressing was a little over-powering, but it was still delicious.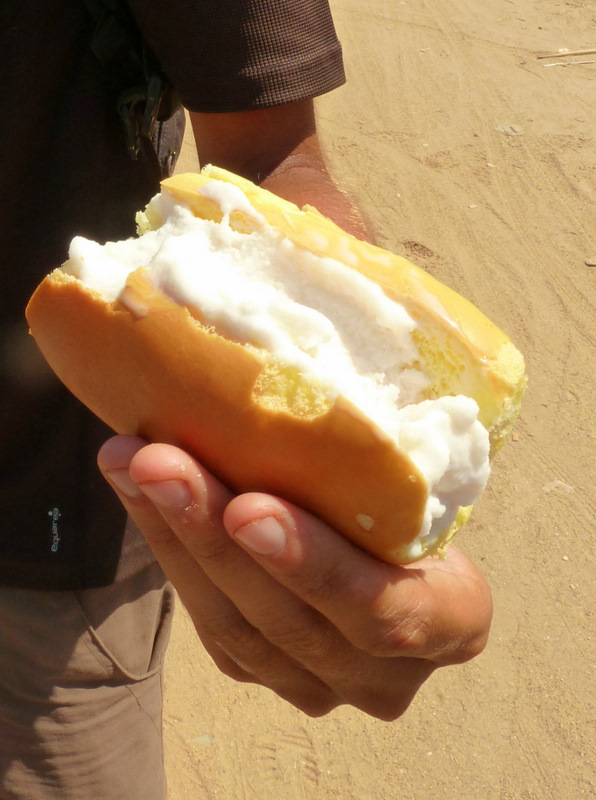 Ice-cream Sandwich: A popular snack here, ice-cream is served in a sweet bread roll, or on a piece of sponge cake. Matthew is particularly fond of this snack, and it seems unique to Cambodia. The ice-cream itself is also very good – usually made of coconut milk, sometimes with chunks of mango in it too.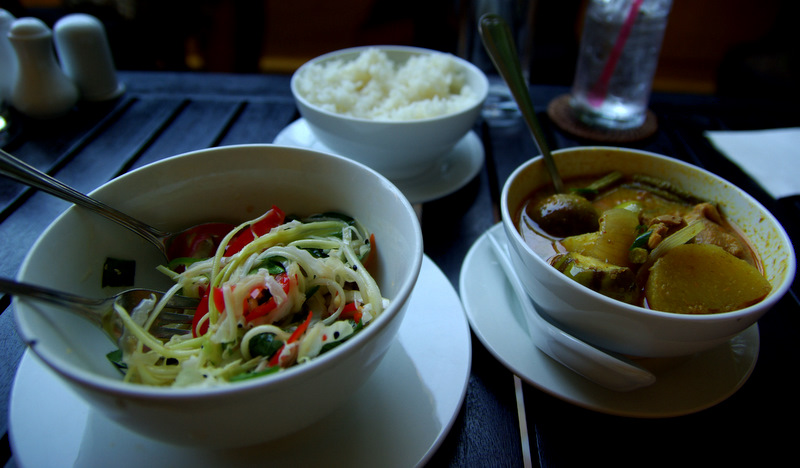 Mango salad and Cambodian Chicken Curry: Another cafe devoted to food and doing good. This one, Friends, trains former street kids, providing them with the skills to work in fancy restaurants and hotels. The food and service were excellent.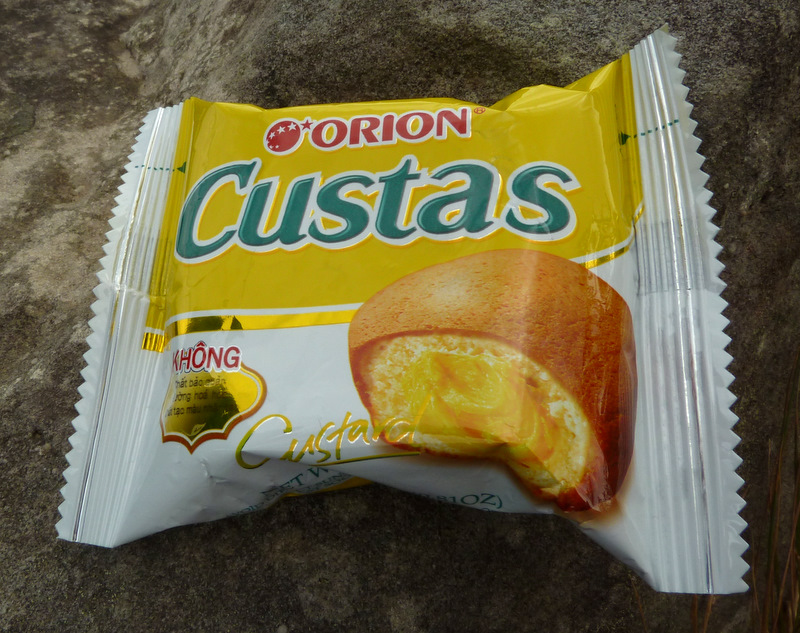 Custas These have formed a fairly major part of our diet all through Vietnam, as a great two minute roadside snack. Its just a sponge cake with a custard cream filling, but we were delighted that they also sell them in Cambodia. We had versions of this in Laos and China too, and more than any other one food they have fueled our bike trip, so I thought they deserved a mention here.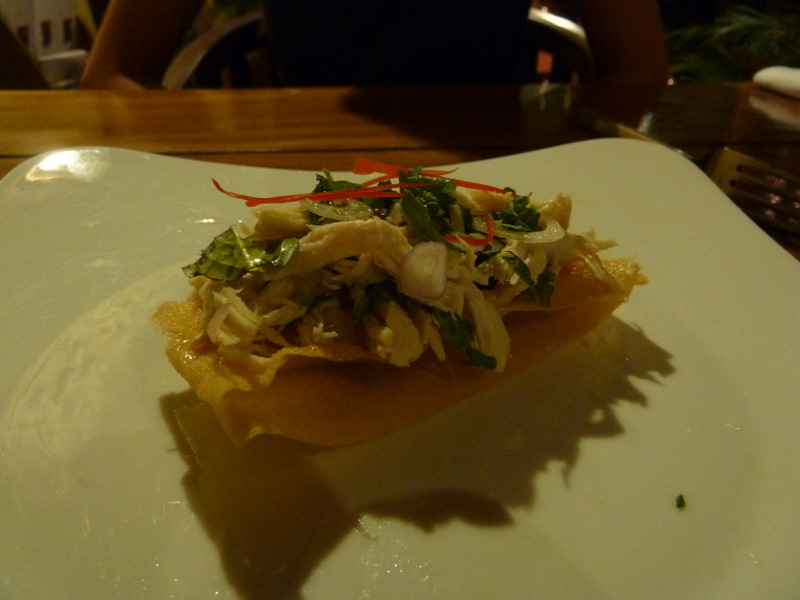 Deep fried wonton with chicken and herbs It was actually more like a poppadom than a wonton, and was topped with shredded chicken, basil, coriander and mint. It was truly delicious.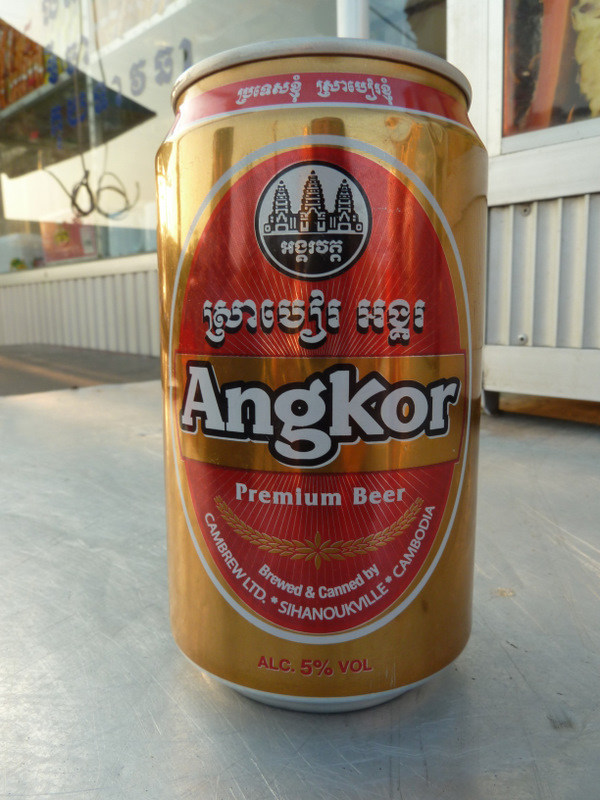 Angkor beer Not to be confused with the also popular 'Anchor Beer'. We've been drinking a lot of this. The slogan at the top reads 'My Country, My Beer'. We haven't learned to read Khmer, its in English on the other side. Apparently all the beer in Cambodia is brewed in Sihanoukville.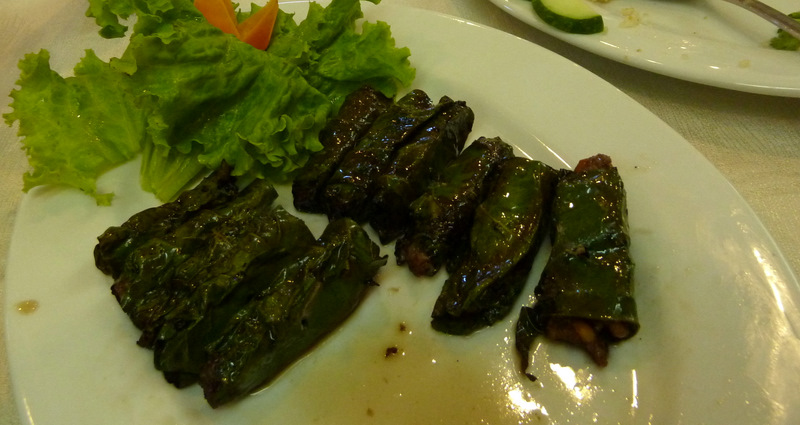 Grilled Beef with Vegetable was what we ordered…and we were a little surprised by this dish, though pleasantly so. The beef was minced and mixed with chopped nuts, then wrapped in an unidentifiable green leaf and barbecued. It was very good. Looks similar to Greek and Turkish stuffed leaves, but they don't put rice inside, and the taste isn't the same.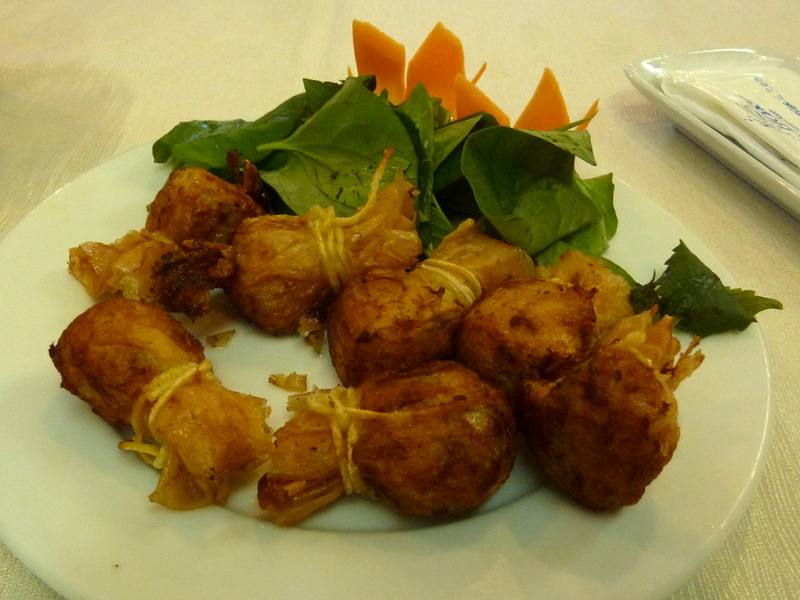 Spring rolls They didn't look much like spring rolls, but they were very delicately done, perfectly crispy and very tasty. They turned out to be stuffed with shredded vegetables and squid. Squid isn't a favorite, but these were good. Of course, they came with a fermented fish sauce for dipping, which we ignored.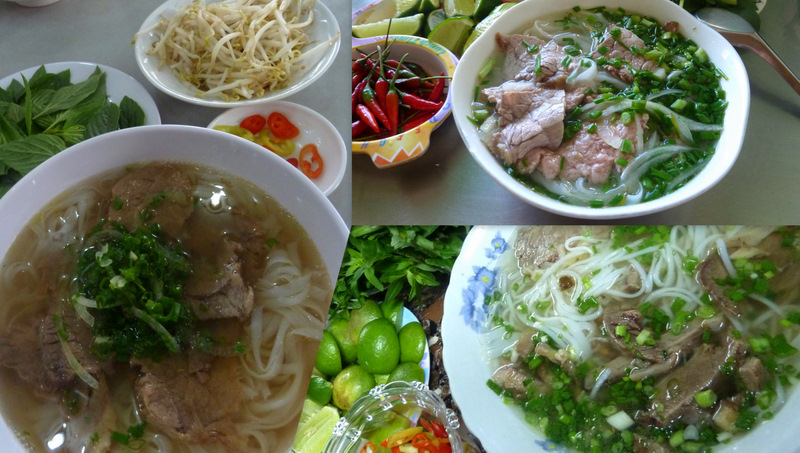 Three bowls of Pho Bo:
Pho has fuelled most of our trip around Vietnam (as have variants of it in Laos and China). Mostly its pretty similar, whether you buy it on the street, or in a restaurant previously patronized by a president.
Left: Pho for the President. Pho from Pho 2000, HCMC. Bill Clinton visited this small restaurant in 2000. It was very typical. ($2.2 a bowl)
Top right: Standard Pho. This was from a small streetside pho restaurant in Quang Ngai. ($1 a bowl)
Lower right: From Pho Hoa, HCMC. As suggested on the internet, it was the best pho we've had, delicious broth, and the tenderest beef. ($2 A bowl).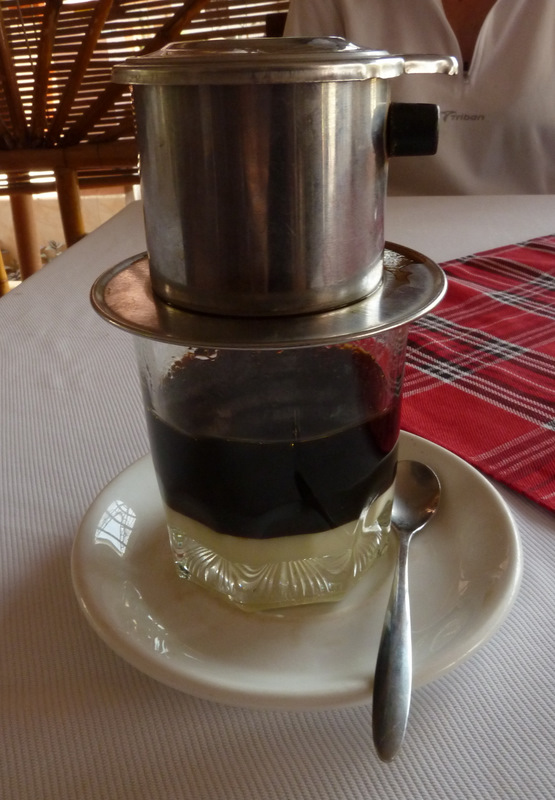 Vietnamese drip coffee : This is very common all over Vietnam, and is usually served with a layer of condensed milk just like this. It's thick and strong, with a consistency similar to hot chocolate.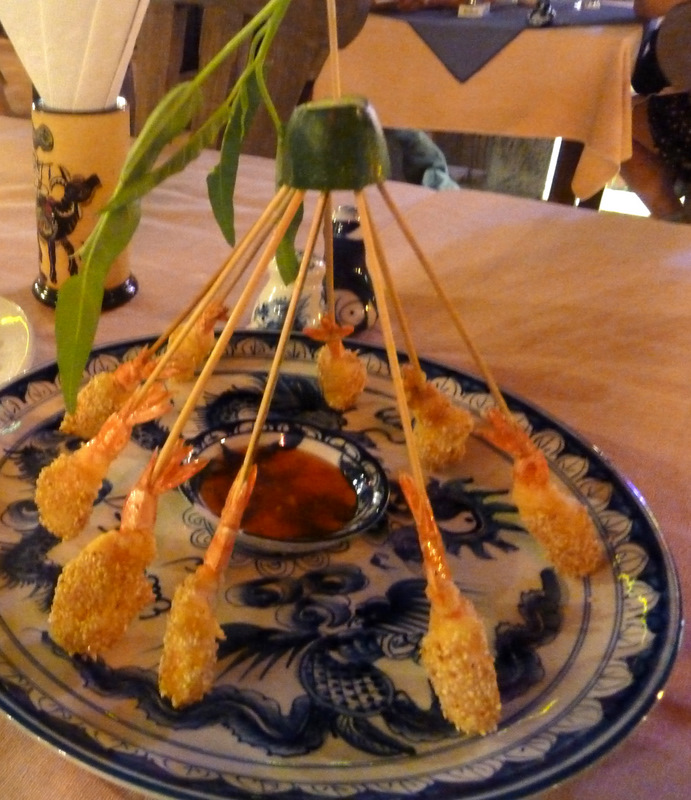 Deep-fried shrimp tripod: Not sure how authentically Vietnamese this is, but it looked impressive and was very tasty. We got this at one of the many barbecued seafood restaurant in Mui Ne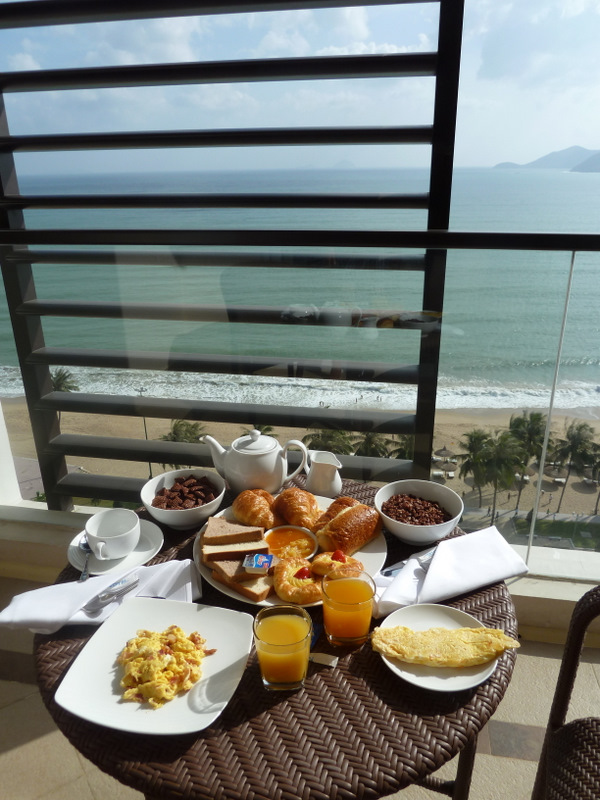 Breakfast:Boxing day, on our balcony looking over the beach in Nha Trang. Perhaps a little heavy for a pre-cycling breakfast, and certainly much larger and more enjoyable than our usual breakfast of Pho in a roadside cafe.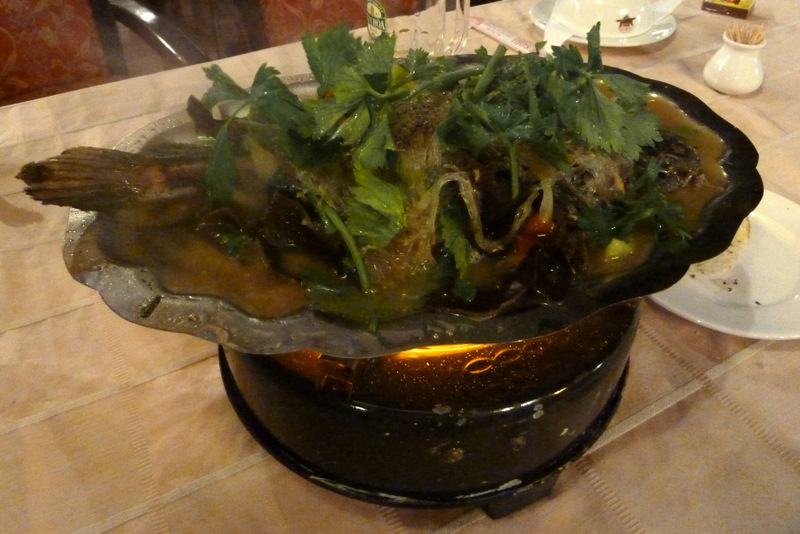 Steamed fish: As we were cycling into Tuy Hoa, we saw Thu's Brewhouse, the first brewhouse we have seen on the trip. Naturally we decided to go back there for dinner once we had found a hotel. They brewed a dark and a light beer, and both were ok, though the dark was a little vinegary for my taste. They also served food, and we had this fish – yes, there is a fish under all that garnish. It was pretty good, and the whole meal was very cheap – only 120,000 VND / $6 for the whole meal and three beers.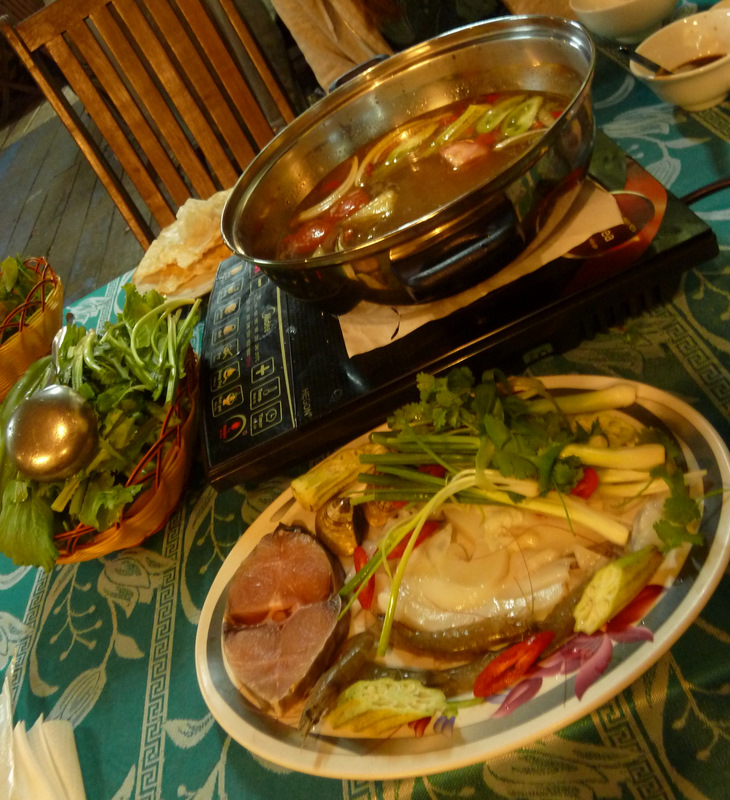 Thai Hotpot: This was part of the same meal as the fish, in a restaurant on a pier over the ocean in Quy Nhon. We didn't enjoy it as much as the fish as it was over-poweringly spicy, and most of the ingredients were seafood items neither of us are keen on. The menu at this restaurant was in English, which is unusual, but it wasn't very clear or specific English. But the prawns (still squirming as we dropped them in), fish and vegetables were very tasty, and hotpot is always fun.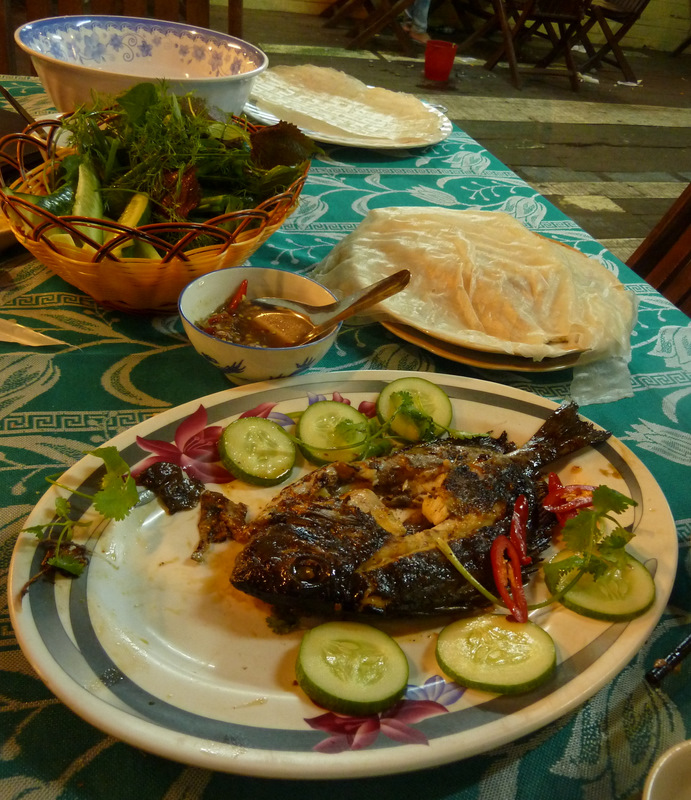 Grilled fish, Vietnamese style: This grilled fish was pretty simple and delicious in itself, and we'd already started to eat when the rest of the dish arrived. You take a dried rice paper sheet (top right), and dip it in the bowl of water to make it pliable. Then you use the flexible sheets (centre right) as a wrapper to make a roll filled with pieces of grilled fish, and various green things of your choosing. We identified slices of unripe mango and cucumber, dill and mint, but there were other herbs and greenery too. It was very tasty. The combination of sour crunchy mango and mint was especially nice. The waitress was quite concerned that we weren't using the sauce provided, but it seemed to be made up of little rotting fish and lots of chilies and it smelled like death so we avoided it.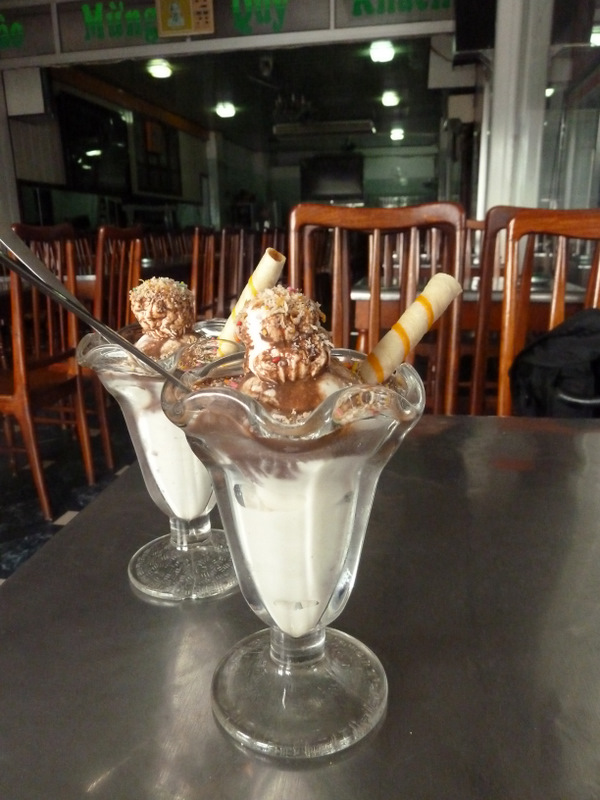 Chocolate Ice-cream Sundaes: These were pretty good after a day on the beach. We washed them down with a lemonade and rhum, which seems to be a very popular drink in Vietnam. You can see the deserted and gloomy restaurant behind us, but you can't hear that 'Frosty the Snowman' is playing in the background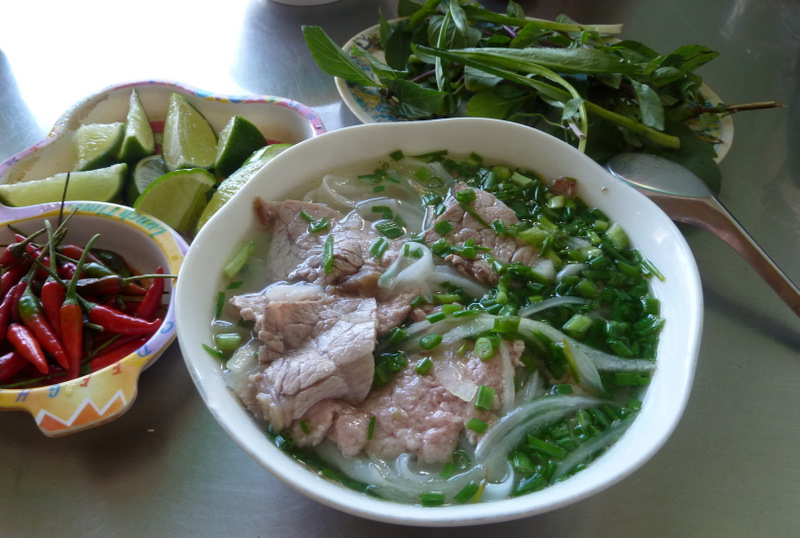 Pho Bo – Beef noodles: We've eaten so much of this, but I always forget to take a picture. This is Pho, rice noodles, which seem to be the most popular kind in Vietnam. Every country so far has had its own variation of noodle soup. In China wheat noodles are more common, and you don't get the limes, chilies and assorted leaves on the side. This particular bowl of pho bo was in Quang ngai, and was one of the best we've had yet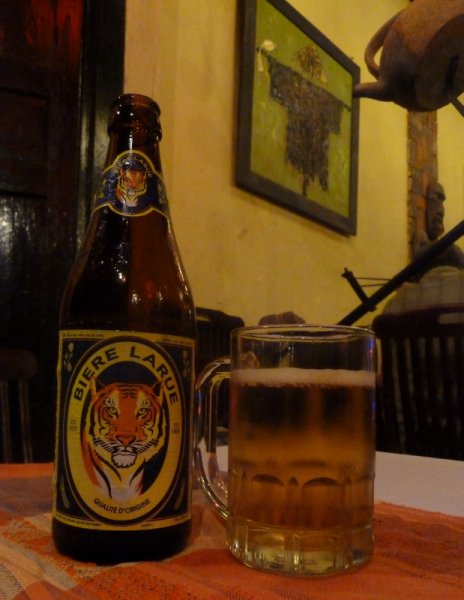 Biere La Rue: This 'other tiger' was the cheapest beer we have had so far in a restaurant (12000 VND / $0.62). It wasn't bad, fairly similar to Chinese TsingTao beer.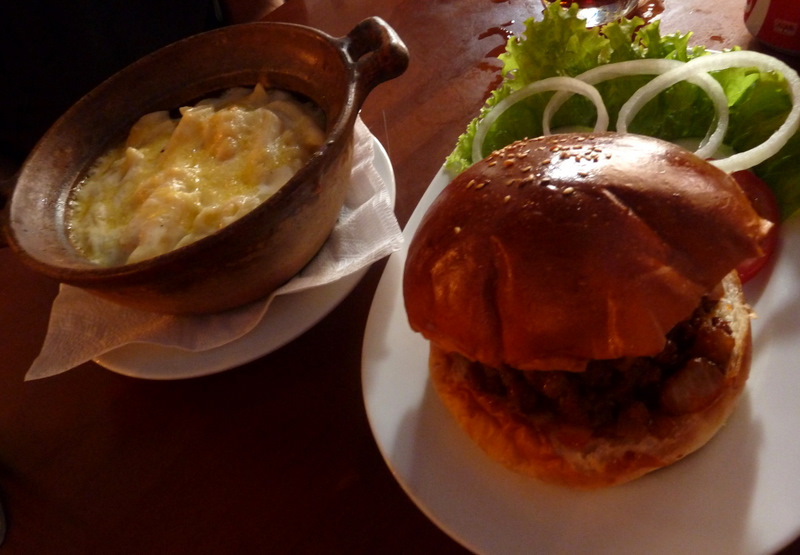 Baked macaroni cheese and a sloppy joe: Not exactly interesting Vietnamese food, but it was very good. This restaurant, Bread of life in Danang is actually also a registered charity providing work, accommodation and training for young deaf people in Central Vietnam.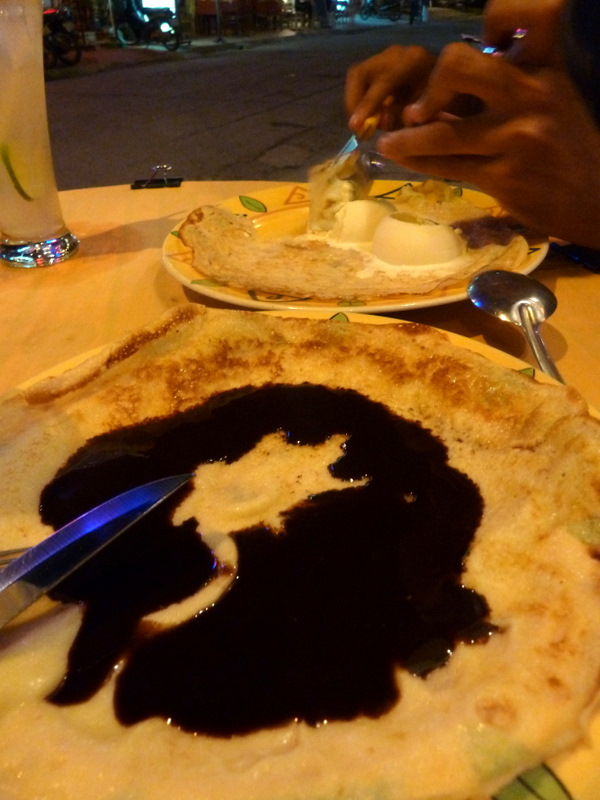 Crepes in Hue: Crepes are a popular desert choice in all touristy areas in Laos and Vietnam – a legacy of the French presumably. These were from La Carambole in Hue, and were delicious. One is with a very rich chocolate sauce, the other with excellent home-made vanilla ice-cream. The drink on the left was another treat – home-made lemonade and rum.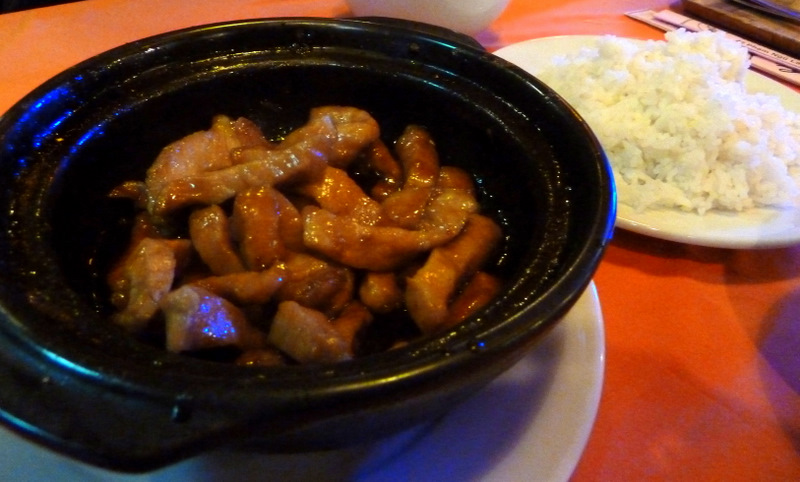 Heo Kho Tá»™ Caramel Pork: Pretty much exactly what you'd expect, this sauce was very tasty, though not much to look at. It tasted both sweet and savory, quite similar to teriyaki sauce. Unfortunately the pork was overcooked, but we'll definitely order this again.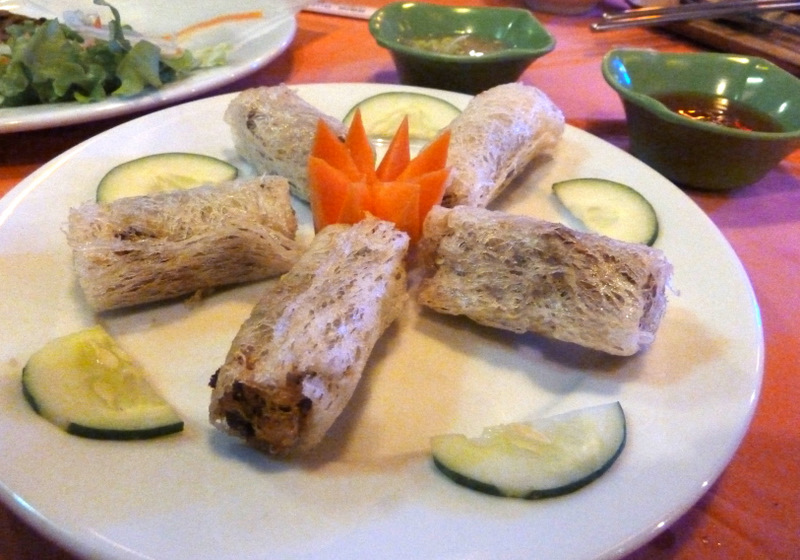 Chả Giò Imperial Spring Rolls in Hue: Pork spring rolls, with a sort of rice vermicelli wrapper. These crispy treats were served with sweet chili sauce.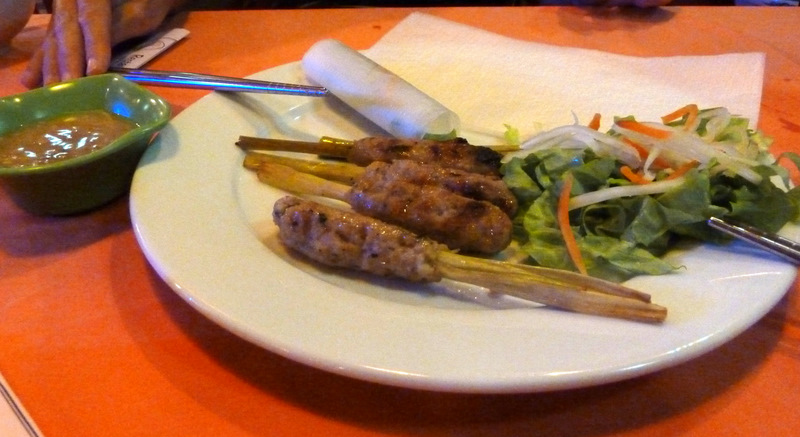 Pork skewers in Hue: minced pork grilled on lemon-grass skewers. To eat these, you pull them off the skewer, then roll them up in a sheet of rice paper with salad. This makes a sort of spring roll, which is then dipped in the accompanying peanut sauce. They were delicious, although the lemony flavor was a little over-powering. After a run of very mediocre food in Vietnam, Hue has been a welcome change.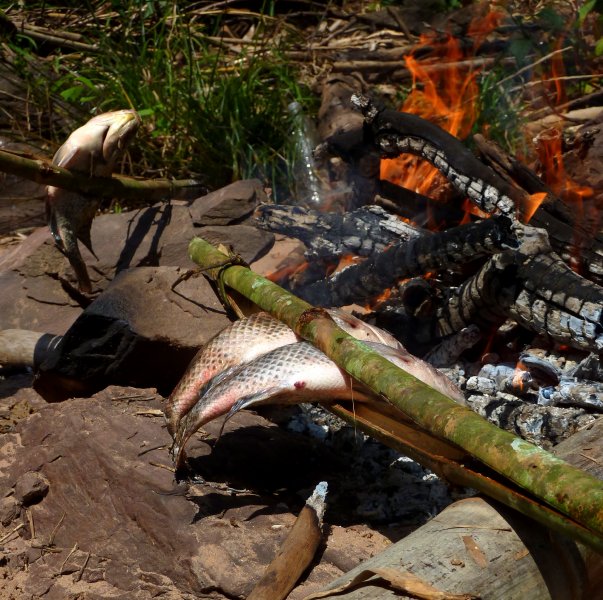 Fish barbecued on an open fire: These fish, barbecued by our guide, Air, were one of the highlights of our kayak adventure on the Namtha river. We didn't catch them ourselves, but bought them in the market in Luang Namtha before we started. Our guide said they were called 'Pa nin' in Lao – we thought they looked like tilapia, and it turns out they were. They took about fifteen minutes to cook, and were delicious. They were served with sticky rice, cold omelet, and a pre-cooked dish of pork and greens on a 'table' of bamboo leaves. Our plates were banana leaves, our cutlery our hands. Sorry there aren't any pictures of this feast; at first we were too hungry, and later we had sticky fingers!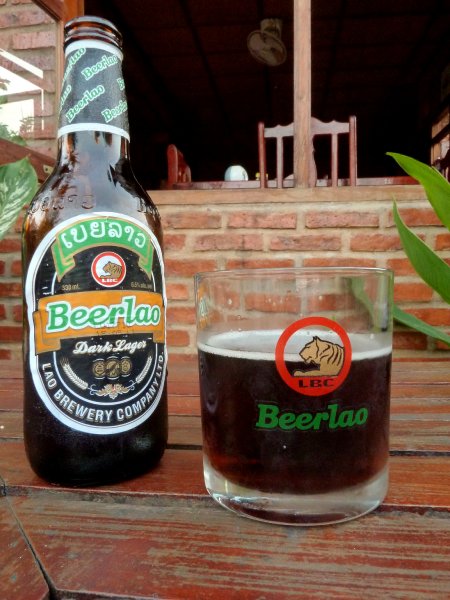 Beer Laos dark: Beer Laos claims to have a 99% market share of the national beer market in Laos. We've been enjoying it.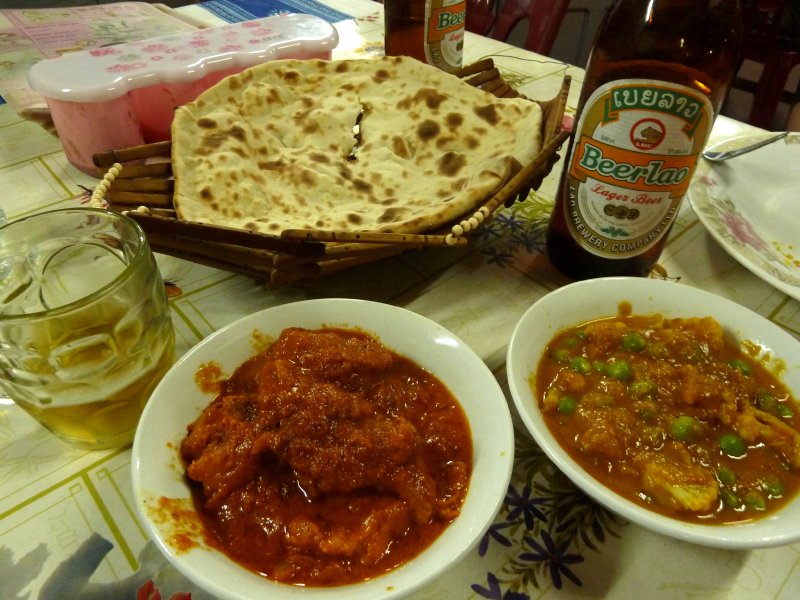 Indian meal from 'Aysha's restaurant', Luang Namtha: Luang Namtha has many restaurants catering to foreign tourists, mostly specializing in over-priced and not particularly good 'western food' such as burgers, fries and pasta. This Indian restaurant, owned by a Tamil Nadu native who settled here permanently after marrying a local, was so excellent that we plan to eat here again! The vegetable samosa, not pictured, were also excellent.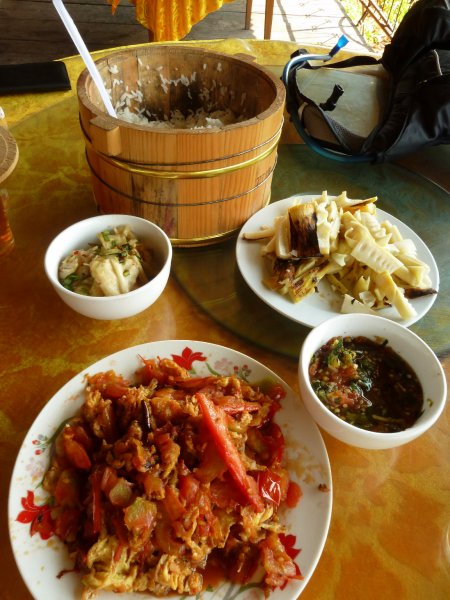 Bamboo with salsa: This bamboo had been roasted/barbecued, then chopped up and served cold with an extremely spicy dipping sauce made with tomatoes and coriander. It was far too spicy for us, and the bamboo would have been better hot, but it was interesting. In the foreground is the pretty ubiquitous dish of stir-fried egg and tomatoes.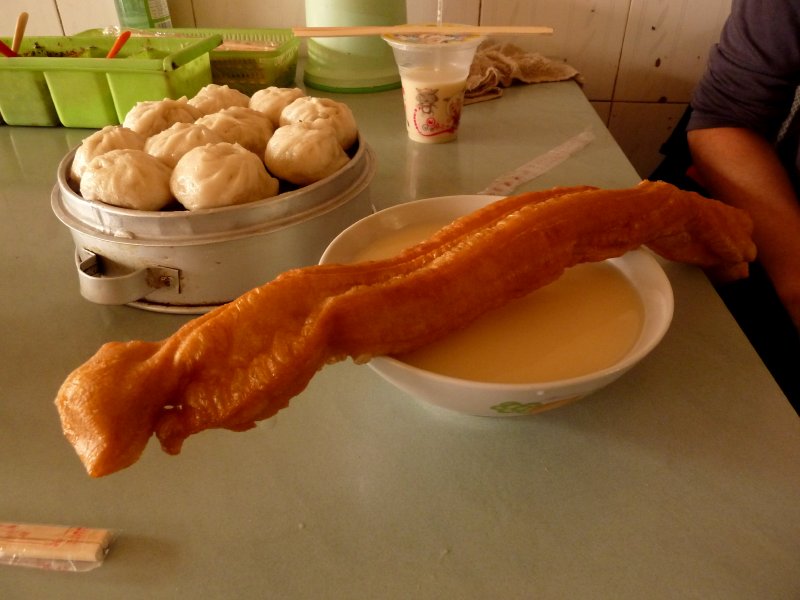 Yunnan Breakfast: Youtiao (fried dough) served with sweetened soy milk for dipping. Typical steamed pork dumplings in the background.

Sichuan Restaurant: Sichuan food tends to be very spicy, we ordered ours less spicy but I don't think they actually know what that means. The beans and corn were delicious, fresh, and crunchy. We've had some poor luck with food lately and this is the best we've had in a while.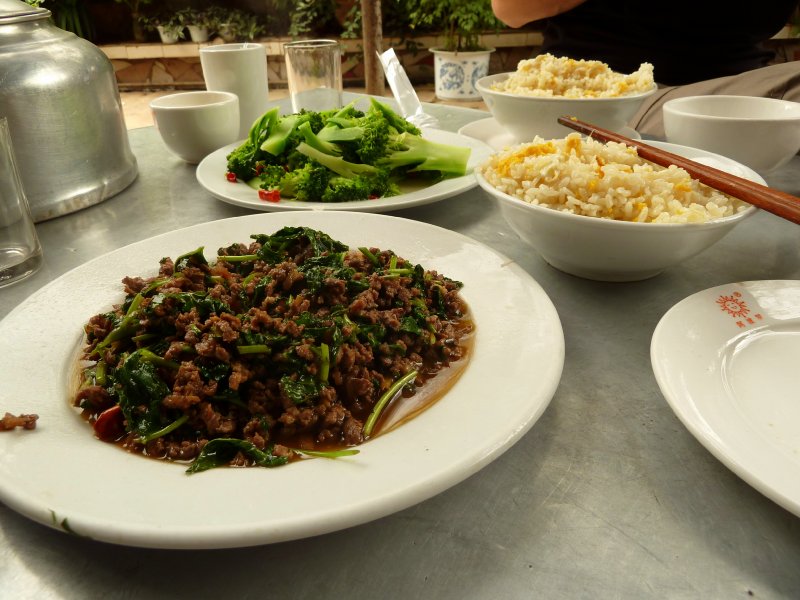 Beef with mint: A Yunnanese speciality that is exactly what it sounds like. They stir fry beef, a lot of fresh mint, and a few chilis and it seems to always turn out well. Should be easy to make at home and we'd both highly recommend it. If it's not obvious from the photo, we had ours with egg fried rice and broccoli which should require no explanation.